About Internet Service Plans
.
Get fiber-fast Internet and phone service for a low monthly rate with multiple service tiers from 25 Mbps to 1 Gbps with no data usage limits or caps. The Town of New Shoreham establishes all plans and pricing to provide options for customers while recognizing the needs and priorities of the Block Island community.
Plans are offered at the industry standard "best effort" and "guaranteed" levels. The most expensive, guaranteed service is typically purchased by high-end users (e.g., businesses with large data transfer needs or mission-critical applications). The promised bandwidth is provided to the user 100% of the time through a dedicated fiber strand.
With "best effort" service, multiple users in a pre-designated area share a fixed amount of bandwidth. Because BroadbandBI is a carefully designed network, any congestion from shared use will go virtually undetected as it takes milliseconds to complete even 1G transactions in short bursts. Our network partners monitor the performance of each subscriber and adjust service to achieve best effort bandwidth. (Think of bandwidth as traffic flow on a highway – if the road is adequately designed, traffic moves along with no issues at the speed limit or even above.) The Town has set the bar high for best effort service with its vendor partners, Sertex and Crocker.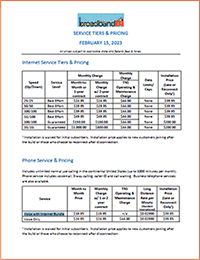 Service Tiers & Pricing - Download PDF
All prices subject to applicable state and federal fees & taxes.
Internet Service Tiers & Pricing
No data limit caps for any service levels.

Installation charges are waived for initial subscribers. New customers joining after the build or those who choose to reconnect after disconnection will be applied the following fees:
$39.95 for best effort plans
$200.00 for guaranteed plans

Phone Service & Pricing
Includes unlimited normal use calling in the continental United States (up to 1000 minutes per month). Phone service includes voicemail, 3-way calling, caller ID and call waiting. Business telephone services are also available.

1. Installation is waived for initial subscribers. Installation price applies to new customers joining after the build or those who choose to reconnect after disconnection.
Additional Pricing
Equipment

XGS PON ONT and other options available upon request.
Installation
For those who subscribed while the network was being deployed, charges for the first standard installation on a parcel were waived. Charges associated with non-standard installations, for installations subsequent to the initial network construction period and/or in excess of the first installation per parcel are the responsibility of the customer.
Base Installation $430.00
Includes installation of ONT and router within the customer premise. Includes fiber jumper from NID to ONT, CAT 6e patch cable from ONT to Router. Standard installation includes up to 50' of cabling to NID.
Labor per Hour Technician $135.00
For additional services beyond standard installation as requested by property owner.
MDU/Commercial installation QUOTE

Service Connections/Drop Construction
For service applications submitted subsequent to the initial construction period, the owner bears responsibility for the cost of connecting to the network. Similarly, the cost of any additional drops to a property are the responsibility of the property owner.

Affordable Connectivity Program

Hospitality/Resale Pricing
A Hospitality option for businesses reselling internet to customers (such as hotels, marinas) will be priced as follows:
A charge of $100 per month for a resale fee.
During the season (defined as when hospitality is open for customer business), hospitality will be charged a monthly fee of $10 per room or if marina then $10 per licensed boat slip.
The $10 monthly fees will be suspended when the facility is closed during the off-season (defined as when hospitality is not open for customer business).

Other Fees & Charges
Additional e-mail address: $54 per year
Late Fee: TBD
Returned Payment: TBD
Interest on unpaid balances: Up to 18.00%
Equipment Return Charge: TBD
IP Addresses
Static IP: $5.00 per Month
IP4 – 4 Addresses: $20.00 per Month
IP8 – 8 Addresses: $30.00 per Month
IP16 – 16 Addresses: $40.00 per Month
IP32 – 32 Addresses: $60.00 per Month
IP64 – 64 Addresses: $90.00 per Month
IP128 – 128 Addresses: $128.00 per Month
IP256 – 256 Addresses: $256.00 per Month

A Note About Future Services & Pricing Models
When identifying a partner to operate and provide service over the Town's network, it was important for the Town to retain a level of control and flexibility over pricing and service structures. Customers of the network have a variety of needs and the community may wish to distribute costs across service levels in a different manner. The Town, Crocker and Sertex may work together over the duration of the partnership to modify service offerings and pricing structures where appropriate in order to best reflect the priorities of the island community and the customer base. Some pricing was established by contract through the RFP process; other pricing (particularly the Town O&M charge) is set by the Town. Ongoing annual budgeting and rate setting for BroadbandBI will be a public process and community participation is encouraged.