Rebooting Subscriber Equipment
Rebooting or Restarting your router means powering it off and back on again. This is not the same as performing a RESET (using the recessed RESET pin on the back of the unit). A RESET will restore the router to factory settings and lead to a loss of configuration and connectivity to the BroadbandBI network. Please refer to the diagram below.
Rebooting the router provides a fresh Wi-Fi environment and may resolve minor connectivity issues. This may be helpful as a first step if you unexpectedly lose internet connectivity to your wired or wireless devices or experience Wi-Fi performance degradation.
Rebooting the Optical Network Terminal (ONT)
Rebooting the ONT is similar to rebooting the router, in that it entails disconnecting power to the device, waiting a period of 10-30 seconds for the device to fully power down and then restoring power to it. If your internet and/or phone service is inaccessible, a reboot of the ONT may re-establish connectivity. If it doesn't, contact Crocker support at 833-952-5625.

In cases where you need to reboot your Smart RG router to restore or improve connectivity, support recommends unplugging the unit from power entirely to perform a full power cycle.
Locate the power cable connected to your ADTRAN Smart RG router.
Gently unplug the power cable from the router's power source. This can be unplugged from the back of the router body itself or from the wall or UPS outlet, whichever is more convenient.
Confirm the lights on the front of the router are all off, then leave it unplugged for 10 to 30 seconds to give the router ample time to fully power down and discharge and residual power. This will enable a complete restart.
Plug the power cable back into the router or wall/UPS outlet, ensuring a secure connection.
Allow the router a few minutes to power up and initialize all its components. During this time, the router will go through its startup sequence and establish a network connection.
Once the router has fully restarted, check the indicator lights or connect a device to the network to confirm that it is functioning properly.
If you continue to experience problems after a successful reboot, contact Crocker support at 833-952-5625.
Smart-RG 834-5 Router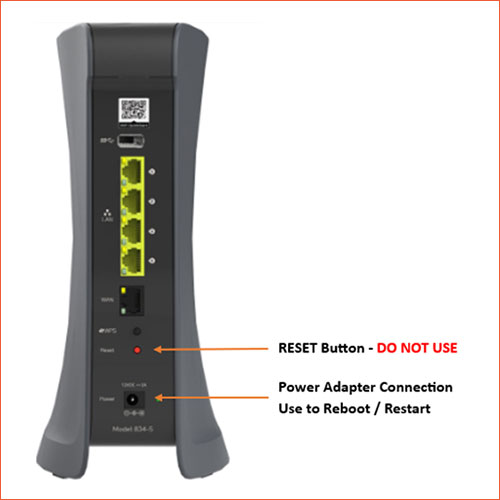 Network Equipment | Telephone | Network/Internet Speed | Television/Streaming | Power Outages | Affordable Connectivity Program | Legal Agreements