Bringing reliable high-speed Internet service to BI residents, businesses, and visitors.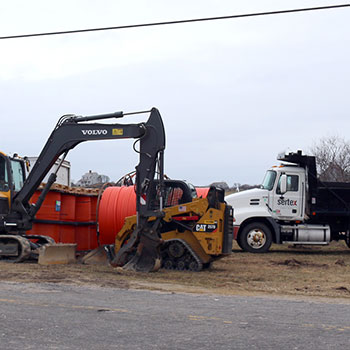 Sertex Broadband Solutions has mobilized equipment and transported thousands of feet of micro duct conduit onto Block Island in preparation for construction of the new island-wide broadband network. Following preliminary design work that was completed in December and January, the network is currently in the early-stage make-ready and late-stage engineering phases. Sertex professionals are mapping out the route the fiber will travel across the island.
The make-ready stage requires local utility and telecommunications providers to reposition equipment pole-by-pole to make room for the aerial fiber.
Underground drop construction to residences and business is expected to begin soon and will be planned in geographical waves. Sertex anticipates building 62 miles of underground drop footage to connect the island. Coordination is required with property owners before any construction can begin in order to secure permissions for access and authorization of the drop route.
With the goal to make as much progress as possible during the winter and early spring, cooperation with Block Island property owners to register is essential to begin construction.
---
Fiber Drop Installations
A final fiber connection (known as a "drop") will run from the backbone to each premises, and equipment will enable end user devices to connect using cables or wirelessly to the network. Once a property has registered and submitted a request for service, a representative from the Sertex customer service team will contact you to discuss your fiber drop installation. Commercial and multitenant units will require a pre-installation survey by one of our technicians before the actual installation.</div>
Download an illustration of the Standard Drop Configuration for a Single Family Home