CONSTRUCTION UPDATE
Every day, island residents and visitors see signs that construction of Block Island's new fiber network is well underway. Sertex crews are hard at work throughout the island's less traveled roads, installing drop conduit on private properties.
You may notice the Sertex Ditch Witch digging a path for fiber through properties and along roadways. This compact microtrenching machine bores a narrow, shallow trench just deep and wide enough to contain the conduit that will protect the fiber optic cable. The equipment is built to dig with minimal disruption of roadways, landscaping and delicate environments. Watch this video of the Ditch Witch at work.
You may also notice bright orange conduit curled up near utility poles and snaking up building foundations. Once Sertex crews complete their final work on utility poles, they will install grey or brown covers to mask the conduit. On private buildings, owners can choose to paint the conduit either a natural color or the color of their structure. Painted conduit will virtually disappear into the building's façade.
Help Us Stay Safe…
Residents and visitors can do a lot to ensure the safety of hard-working Sertex crews this summer. Whether walking, cycling, or driving a car or moped, everyone should:
keep a safe distance from construction crews and equipment;
follow the requested travel path indicated by cones, arrows, flags or flaggers;
slow down, pay attention and be alert when approaching and passing construction sites;
be patient and expect some delays.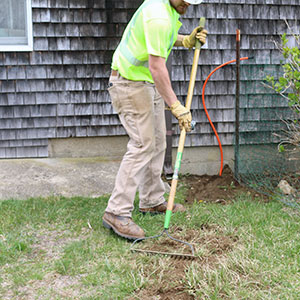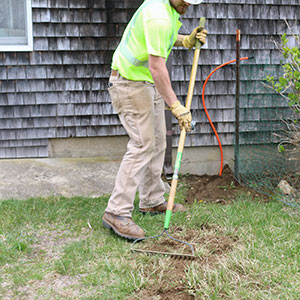 A safe work environment will allow construction to progress as quickly as possible during these busy summer months.
If you own rental property or a business, please share information on the broadband construction with your customers or guests and ask them to proceed carefully during their visit to Block Island. In addition to Sertex construction, pole make ready work by local utilities will continue across the island this summer.
Respect the Marks
Flags or temporary paint located on properties throughout the island mark the path fiber conduit will take through properties and the location of potentially hazardous utilities. These markers ensure a safe construction environment for residents, visitors, and Sertex construction crews. These flags must remain in place until Sertex crews complete their work at a property. This may be about 4-6 weeks. Sertex crews are the only people authorized to remove or move Dig Safe and Sertex flags. If crews suspect that flags have been moved, the Dig Safe process will need to be restarted. This will require owners of underground facilities to return to the property to re-mark their respective utilities, which may delay installation of your fiber conduit.
If you have any broadband-related questions or concerns, please send an email to Sertex customer service.
Thanks for your patience and support!